Sri Shyam Sundar Goswami
Adopted to the needs of modern life Sri S S Goswami's teachings, most transmitted orally, was faithful to ancient Yoga tradition. Goswami was uninterruptedly busy until the time of his demise, on October 13th 1978.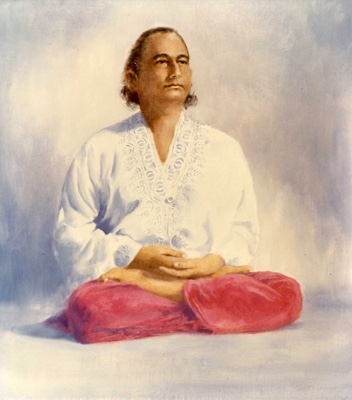 He conducted Hatha Yoga classes along with his assistant Mrs. Karin Schalander. Besides conducting classes, the Yoga Master carried out an intensive research work while delivering lectures most regularly with occasional Yoga demonstrations at different institutions.
In 2010 Shyam Sundar Goswami's private library with its unique collection of Yoga literature was donated to the Lund University in Sweden.
In May 2011 The Goswami Foundation was established, with the aim of perpetuating the development of Yoga according to the spiritual heritage left by its renown protagonist. The foundation is supporting this website and endeavouring to publish relevant Yoga literature.
Short biography
The millennia-old Yoga tradition was introduced in a large scale in the West, at the beginning of the past century. Among the foremost Indian exponents of Yoga was Sri Shyam Sundar Goswami and his close disciple, Dr. Dinabandhu Pramanick.
Born at Santipur, Northern Bengal, of a musician, philosopher and physical culturist who was active in India's struggle to gain independence from British rule, Sri Goswami became part of a 700-year old family tradition, living in a harmonious blend of knowledge and spirituality. One of his ancestors became King Hatnabati's guru and the spiritual heir of famous bhakti yogi Chaitanya. Still today in India, the name Goswami is notoriously linked to learning and teaching.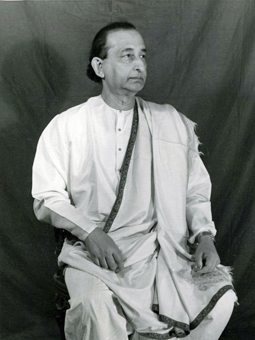 However, the reason for Sri Goswami to dedicate his whole life to Yoga was not his spiritual family heritage, but a frail constitution from childhood and the encouragement of a celebrated 110-year old physical culturist, Kali Singha, who taught under two years the then 17-year old teen those yogic exercises that aim at making the body healthy and strong.
At that time there was a Professor Rammurti, celebrated for his phenomenal strength he acquired through yoga practice, like supporting an elephant on his chest. This was crucial in determining once for all the young Goswami to dedicate himself seriously to the practice of Yoga.
As if by the intervention of some higher power, Balaka Bharati, a great master of Hatha Yoga, crossed his path. Goswami was then about twenty years old. The yogi initiated him into Hatha Yoga and exposed the whole science to his disciple. Faithful to yogic tradition, he practiced in the presence of his Guru and when Balaka Bharati became persuaded his disciple could go by himself, he retired to his hermitage in the Himalaya.
A few years later, he would meet a great Laya Yoga master who initiated him into the science of chakras and concentration. Notwithstanding his previous health handicap, Sri Goswami developed an extraordinary psychophysical strength.
For about seven decades Sri Goswami dedicated his full time to study, experiment and teach the vast field of Yoga. In his studies were included a large range of topics such as anatomy, physiology, neurology, working psychology, physical education and nutrition. Besides, he was always interested to develop his exegesis on metaphysical issues and a scientific curiosity on the latest advances on the innermost core of matter.
The Yoga master with solid academic credentials was able to reunite harmoniously learning and action, deep thinking with pragmatism, body culture and spirituality.
For thirty years, Sri Goswami was teaching at his father's eponymous Yoga Institute (founded in Santipur 1919). Accompanied by his disciple Pramanick, he toured the whole of India with the noble idea of giving access to all the classes of the society, irrespective of gender, faith or cast, to the science of Yoga. His lectures and demonstrations were primarily directed towards various educational institutions, more particularly the medical body but also to then ruling princes, maharajas (one of them christened him "The Lion of Bengal" and rajas, ministers and other similar officials.
Asked formally by Mr.Krishna Menon, India's ambassador in to the UK (late to become Defense minister), Shri Goswami went to represent his home country at the 1949 World Congress for Physical Culture, at Lingiaden, Sweden where 64 nations took part.
Assisted by his faithful disciple Pramanick, Sri Goswami 's lectures and demonstrations were highly appreciated during a world tour which would end when he was asked by a delegation of Swedish physicians to settle and teach Yoga, in Stockholm, Sweden. The Goswami Yoga Institute is most probably the most ancient Yoga institute in Europe.
Together with his most advanced pupil, Dinabandhu Pramanick, Sri Goswami had previously been giving lectures on and demonstrated to large audiences the art and science of Hatha Yoga. Throughout India, in the USA, Japan and Europe, mostly attended by members of the medical body. His long yogic voyage ended in Sweden when a delegation of physicians asked him to settle and teach Yoga in the Swedish capital.
Hard-working till his last days, Sri Shyam Sundar Goswami passed away in 1978, at the age of 87. This would conclude a yogi's remarkable career filled with scientific search, experiments and an indefatigable teaching. He also prepared an Encyclopedia of Yoga, which unfortunately remained unachieved. However, only Layayoga, the science of the chakras, could be published (Inner Traditions) before the Yoga master's demise.
However, a synthesis of the Yoga master's teachings is available in the book Foundations of Yoga (Inner Traditions) by Basile P. Catoméris.
Sri Goswami is considered an authority and one of the foremost exponents in modern time of the science of Yoga. Still today the charismatic Lion of Bengal shines forth as an inspiring source in many disciples' heart.
After the demise of Sri Goswami, his teachings continued under the guidance of his close disciples, Mrs Karin Schalander (†2009) and Basile Catoméris.
Today the Yoga classes in Sweden are being led by Basile's close disciple Eva Olandersson.
---
Sri Goswamis spiritual ancestors
Still today the Goswami name is and has been well-known in Northern Bengal for some 700 years. One of Sri Goswami's ancestors became the guru of King Hatnabati who lived at a time when the great bhakti yogi and reformer Chaitanya (1486-1533) came to Puri where he would end his life (the legend says Chaitanya' body disappeared mysteriously). The famous bhakti yogi had then passed his spiritual responsibilities over to Goswami, the King's guru. However, the Goswamis were known even before the Chaitanya legacy to Sri Goswami's ancestor took place. Sri Goswami mentions Vasya as a plausible origin of his ancient lineage.
One of the pivotal yogis to influence Sri Goswami was Balak Bharati, a hermit endowed with extraordinary powers who lived close the Goswami family house, in Santipur.
During his spiritual quest, Sri Goswami would meet an other great yogi master who initiated him into the science of the chakras – Layayoga – (also called Kundalini Yoga), a path that assumes a mid-position between Hatha Yoga and Raja Yoga. It is the same Layayoga master who later initiated and married Ma Santi Devi.
Born on Dec. 25th 1904 in a village of Northern Bengal, at the age of 11 Ma Santi Devi was fetched by her future husband, a teacher in close the village of Pavana and likewise a Laya Yoga master, named Sri Dijwapada Sharma Raya. For eight consecutive years made her to follow the rules of brahmacharya before granting her diksha. From that time, the teacher started to show his young disciple the path of devotion and the rituals related to it – puja, braja, japa as prescribed in Hindu scriptures (shastras).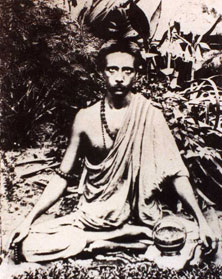 The Laya Yoga adept "Masterjee", as Ma Santi Devi used to call her Guru-spouse, passed away when she only was in her early thirties, widow with one son, his wife and their three children.
Soon after, an other misfortune would hit the yogini: Her son was killed in a tragic car accident living the devoted yogini suddenly alone had with the responsibility to look after her frail step-daughter and three grand children. Split but enriched, Ma Santi Devi's life became divided between spiritual practice and a high sense of her household responsibilities, as a typical representative of the Middle Way spiritual quest.
With the help of faithful and generous disciples like Sri Shyam Sundar Goswami and his disciples, Ma Santi Devi was given a piece of land in Gopalpur upon which she would build a home of her own share with her stepdaughter Arati and three grandchildren Devkumar, Shibani and Sarbani.
Formally illiterate but filled with spiritual wisdom, the yogini of Gopalpur was both a pragmatist and humanist. Ma Santi Devi was would display throughout her whole life a rare sense of equanimity. She would treat equally her family members, native and foreign disciples as her own offspring – equanimity and a vision of sameness (sama-darshana) that is typical of accomplished yogi(ni)s according to Bhagavad Gita (II, 48; V.18; VI.32).
"Great souls like her never leave, but continue to inspire and teach future generations in subtle and powerful ways. We only have to think of them, and there they will be, to guide us and show the path" said one spiritual admirer.
---
Sri Goswami's spiritual heirs
Karin Schalander
For some thirty years, Karin Schalander was one of Shyam Sundar Goswami's closest pupil. Their first meeting occurred at a time when Sri Goswami was invited to lecture at the 1949 World Congress on Physical Education at Lingiaden, Sweden.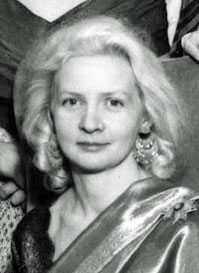 It was on this occasion that the Yoga master was expressly asked by a medical delegation to establish his Yoga institute in Sweden. However, accepting this proposal was not without entailing administrative difficulties.
Enthusiast as she was about the perspective of having access to a unique teaching, Karin Schalander offered her spontaneous support to Sri Goswami in dealing with Swedish officials for a residence permit. Her effort were eventually successful and the requisite permit granted which beside included an authorization for the Indian citizen to teach Yoga in Sweden beside carrying out his research work.
The eager pupil would then assist her spiritual guide in many ways, in particular by setting up Yoga courses and demonstrations in various places located in the Swedish capital.
Grateful, the teacher proposed after some time that Karin Schalander should start under his supervision to conduct on her own asana courses for beginners. These courses were, until 2007, to be her main occupation in life.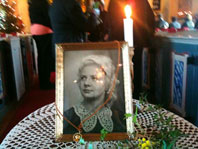 Karin Shalander was an assiduous, successful pupil with a remarkable body development and control. She learned e.g. to master vasti, an advanced method for inner cleansing (colonic auto-lavage), that is rarely controlled by Western female practitioners.
She was initiated in the Yoga tradition by her teacher Sri Goswami in receiving a personal mantra selected by Ma Santi Devi.
Karin Schalander retired from her teaching activities a few years before she left her body, peacefully, in Gräsmark, on the 7th of December 2009. She had then dedicated the largest part of her life to Yoga.
Basile P. Catomeris
Among Goswami's earnest pupils was Basile who, at that time, was perhaps an unusual westerner that for more than two decades would receive, patiently and uninterruptedly, invaluable knowledge at the feet of an authentic Yoga master.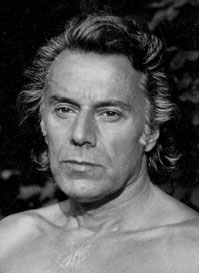 As a parallel to an international career as con-sultant in Intellectual Property, his long yogic apprenticeship would bring him closer to the centre of the Goswami Yoga Institute giving him occasionally not only the privilege of leading his Master's own Yoga classes but also assist the man whom a maharajah of lore had christened "The Lion of Bengal", proud to stand by the side of an exceptionally dedicated man who devoted his entire life to the science of Yoga while teaching thousands of pupils from all parts of the world.
Soon before his Master's demise in 1978, at the age of 87, the patient and hard-working disciple would be initiated after 21 years of continuous studies and practice of the "science of man", a scientifically revised Yoga tradition.
Some years later, Basile went to India to visit his late Guru's spiritual mother, Ma Santi Devi, a God dedicated Bengali householder and yogini who followed the the laya- and bhakti yoga paths.
On the meeting day she addressed him: "Virachari (Basile) You didn't come here to great your demised Guru's spiritual mother but to get the Brahma mantra diksha I previously bestowed your Guru along with the spiritual nameJñanananda Giri. No one is entitled to initiate others pupils without it ".
It is that exceptional woman, Ma Santi Devi who gave Basile the final initiation she had previously bestowed her beloved Shyam Sundar (Goswami). The new disciple was henceforth formally empowered to initiate other chelas and transfer the theoretical and practical knowledge he had acquired under his long apprenticeship in exile.
It is these two remarkable Yoga personages who expressly asked Basile to convey the knowledge and insights he acquired under his long spiritual quest.
---
Testimonials
"Shyam Sundar Goswami is the greatest interpreter of yoga in modern times."

Shri Karunamoya Saraswati
"From the bottom of my heart, I express my gratitude to this glorious soul…. He was an example of one who concentrated on what was essential — life itself…. In his presence, it was out of the question to lie or to deviate from the absolute truth…. His sense of morality towered above that of anyone else I have known; he was a brilliant example of right conduct…

I would have been unable to overcome my difficulties without the strength that I received from his serenity and the love of truth that he taught me."

Professor Gunnar Adler-Karlsson
"The "Professor" (Goswami) was animated by a true passion for scientific investigation, and the systematization of his subject of research…. I have always been able to count on him, even in the midst of a crisis or illness; always attentive, he listened to me relating my problems and offered me his enlightened advice and often the hospitality of his table. Each time that I visited him, I was transported into a great hope for the future, into an intense feeling of joy and happiness."

Dr. Ulf Jansson
"He was a prodigious monument to strength, and we sat at his feet eager to learn…. In retrospect, I realized that it was without doubt those times, seated on a blanket spread out on his rug, that I experienced the most precious moments of my life."

Claude Kayat, author
"… I've the memory of a very special and almost solemn atmosphere that reigned in the little circle of pupils as well as Goswami's intense personal charisma. To me, his lessons were mostly a kind of exercise in listening to a message that he tried to convey over great distances, both on the surface and within."

Dr.Birgitta Olivecrona
"His whole personality inspired equally the ideal of yogic excellence (deva deha) and the ideas of Ancient Greece: strength, wisdom, courage, and beauty – what we call life…. During the whole of my long life, he was a master, counselor, and friend – a guru, a spiritual father."

Vishuddhananda Giri (Basile Catoméris)